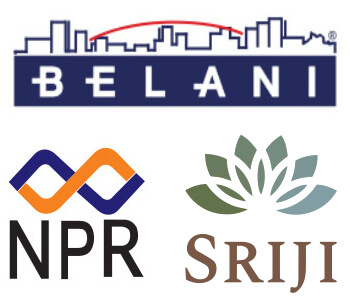 NPR – Belani – Sriji Group
Belani Group
Founded in 1967 by a perceptive entrepreneur, Mr K. P. Belani, who foresaw Kolkata's potential in real estate development. The Belani Group is one of the oldest developers in the city and has been raising the bar ever since. A distinctive lifestyle has been laid for Kolkatans; a dream which began with Himalaya House at Chowringhee. Nearly 1,00,00,000 sq.ft. and over 40 projects have been delivered in the last 55 years. The group has built landmark projects like Metro Plaza, Hiland Park, Calcutta Riverside, Belmont Apartments, Palacio, Le Palmerie and Woodburn Central to name a few.
NPR Group
Innovation, sustainability and class – the three words that define the legacy of NPR, a diversified business group headquartered in Kolkata, passionate about providing quality services to its customers, partners and stakeholders. Driven by a passion for discovering new avenues and executing projects to perfection, the group is committed to innovation-led, exponential growth. Their vision is to enrich lives by nurturing and building trust and transparency across their diversified businesses to provide the best value to everyone involved.
Sriji Group
Sriji Group is a Kolkata based diversified conglomerate established in the year 1973. Real Estate development, Iron & Steel and Bearings are the core business of the group. Since 2006 they have successfully constructed and delivered several residential projects. The focus of the management is on delivering superior design, quality, amenities, specifications along with transparency, timely delivery and customer satisfaction.
Residential Projects by NPR – Belani – Sriji Group