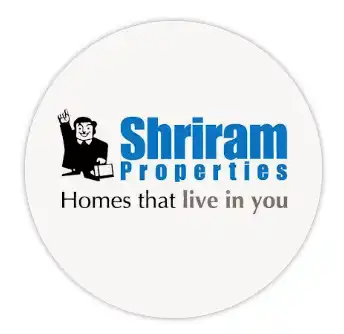 Shriram Properties
Shriram Properties is a brand built on trust, transparency, and quality in every aspect of the business. Shriram Properties is part of the Shriram Group, which is a prominent business group with four decades of operating history in India and a well-recognized brand in the retail financial services sector and several other industries. They believe that our relationship with the Shriram Group provides us with strong brand recall and that we benefit, and will continue to benefit, from the trust and confidence that homebuyers, lenders, financial investors, landowners, development partners, contractors, and other stakeholders place in the Shriram brand and its operational history.
Shriram Properties is one of the leading residential real estate development companies in South India primarily focused on the mid-market and affordable housing categories.
They are also present in plotted development, mid-market premium, luxury housing as well as commercial & office space categories in our core markets.
They commenced operations in Bengaluru in the year 2000 and have since expanded our presence to other cities in South India, i.e., Chennai, Coimbatore, and Visakhapatnam. In addition, we also have a presence in Kolkata in East India, where we are developing a large mixed-use project.
As of September 30, 2022, they have a total portfolio of 54 projects aggregating to 53.83 million square feet of estimated saleable area, with 26 ongoing projects and 28 upcoming projects (each category accounting for ~44% and ~56% of our total estimated saleable area).
If you are looking for a home in Hooghly, then here's a luxurious project called Shriram Grand City.
Residential Projects by Shriram Properties