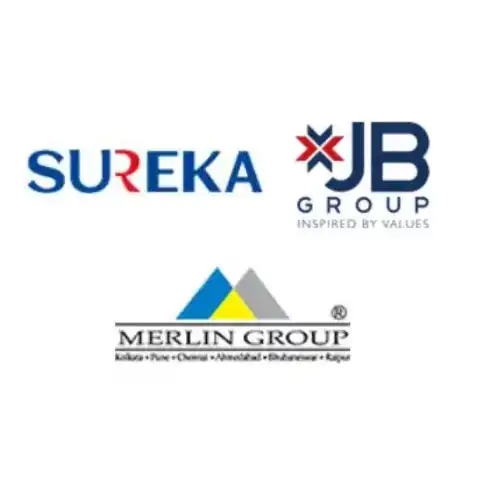 Sureka-Merlin-JB Group
Sureka Group
The Surekha group has over five decades of experience in creating landmark buildings with adherence to quality systems, living up to its reputation of 'building with a difference'. The company has been instrumental in infusing a vibrant energy-driven design trend in construction, which has set the benchmark for developing landmark buildings that have completely transformed the Kolkata skyline like, South City, Urbana, IT workspaces like Globsyn Crystals, malls like South City Mall, affordable housing like Sunrise Junction, many other well-known residential projects like Sunrise Greens, Sunrise Symphony, Sunrise Point, Sunrise Towers, Sunrise Heights, etc. and commercial developments like JK Millennium Center, Central Plaza, Duckback House, Park Plaza, etc. Sureka Group has also developed a 25-acre project Elita Garden Vista in New Town and It has launched a new brand Springville with two new residential projects in Odisha.
The Sureka Group is a well-diversified entity with entrenched positions in Manufacturing and Real Estate. This well-balanced portfolio not only straddles multiple mutually-exclusive businesses but also improves agility, strengthens revenue streams, and de-risks the group from excessive dependence on a particular business. The Sureka brand today has come to stand for trust, credibility, quality, and customer-centricity, while its real estate projects (both independent and in the consortium) are home to over 5000 families.
Sureka Group focuses on elevating lifestyle at value for money. Each residential property is designed by internationally acclaimed architects, keeping in mind the comforts of future residents and aesthetics. Witness life takes an international turn and experiences a new world of living with Sureka Group. Book your dream home with the top developer in Kolkata at an unbelievable price. With an expertise of over four decades, Sureka Group has been building apartments, townships, and commercial properties with impeccable standards, making us the top real estate developer in Kolkata.
Merlin Group
With over 3 decades of real estate experience nationwide, complete with meticulous planning and quality craftsmanship, our aim is to create a happy home and a healthy workspace for every citizen of this country.
Over 10 million sq ft of construction completed and a further 10 million sq ft of work is in progress.
Emanated in 1984, Merlin Group is now one of the pre-eminent conglomerates in the real estate industry in India, having a plenitude of prestigious residential and commercial complexes, office buildings, and townships to its credit over the past three decades.
Its presence spans Kolkata, Ahmedabad, Raipur, Pune, Chennai as well as Colombo. With the shifting epoch, Merlin Group has now extended its movement to contemporary shopping malls, resorts, industrial estates, clubs, etc. Merlin Group is your go-to place where you will find it all under one roof.
JB Group
Created in 1970, the JB Group slowly and steadily became a pioneer in the field of finance and financial services. Gradually, it extended its horizon to real estate and then tea, and then manufacturing and e-commerce/retail. Although JB Group has been created through the singular vision of an individual Shri Jhumarmalji Bachhawat, the second and third generations of the family have taken the reigns into their hands now. The purpose of the Group is not limited to just the enhancement of stakeholder value but also to enhance social values through education, health, empowerment, livelihood, and community-based projects.
In real estate, JB group has a concrete history of partnering with and developing many residential, commercial, and retail projects. The Group has leased out numerous commercial spaces to MNCs, large corporates, and retailers in premium properties such as 22 Camac Street, 2 Upper Wood Street, FMC Fortune, Jasmine Tower, Metro Towers, and Shrachi Tower, Unitech Signature Tower in Delhi, and JB House in Bangalore, along with Land Bank in Delhi, Jaipur, and Bikaner.