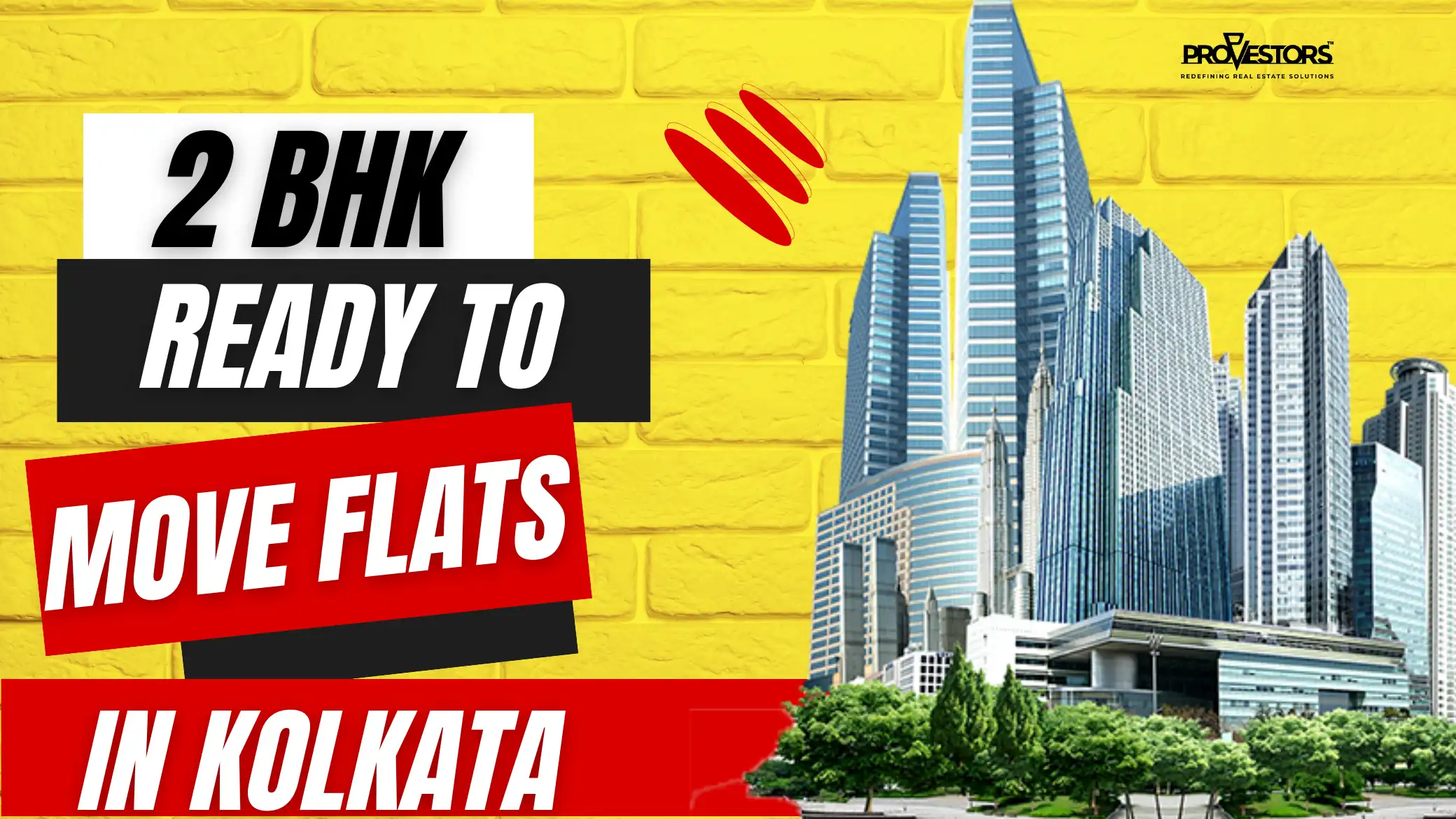 13 May, 2023
Which are the best ready-to-move projects to offer 2 BHK flats / Apartments in Kolkata
When we decide to buy a property, first we think that the location and connectivity should be good.  Where we get full of amenities, luxuries, and comforts. Every home buyer's desire is to purchase the ideal house. Let's discuss several projects nearby in Kolkata to enhance your quality of life while keeping your budget in mind.
So, if you're looking for a 2BHK ready-to-move flat in Kolkata, you've come to the right place. We are Propvestors, the best Real Estate consultants in Kolkata. Our diligent team has done comprehensive research on the best 5 developments in Kolkata that provide you opulent yet affordable homes. We narrowed them down based on several factors, including connectivity, facilities, building quality, and client feedback.
So, here we have 5 best ready-to-move projects to offer 2 BHK residential Apartments in Kolkata
1. Freshia
Freshia is a ready-to-move residential complex located in Rajarhat by the Loharuka Group. It has spread over an area of 3 acres. To meet everyone's needs, the project provides a variety of property options, including flats. It has 8 eye-catching towers with a range of 2BHK, 2.5BHK, and 3BHK apartments.
This project provides you with some excellent amenities, like a crèche, swimming pool and kid's pool, an air-conditioned gym with steam and sauna, a library, a community center, an intercom, an indoor games room, a crèche, a food court, a small jogging track, an outdoor tennis court, and more.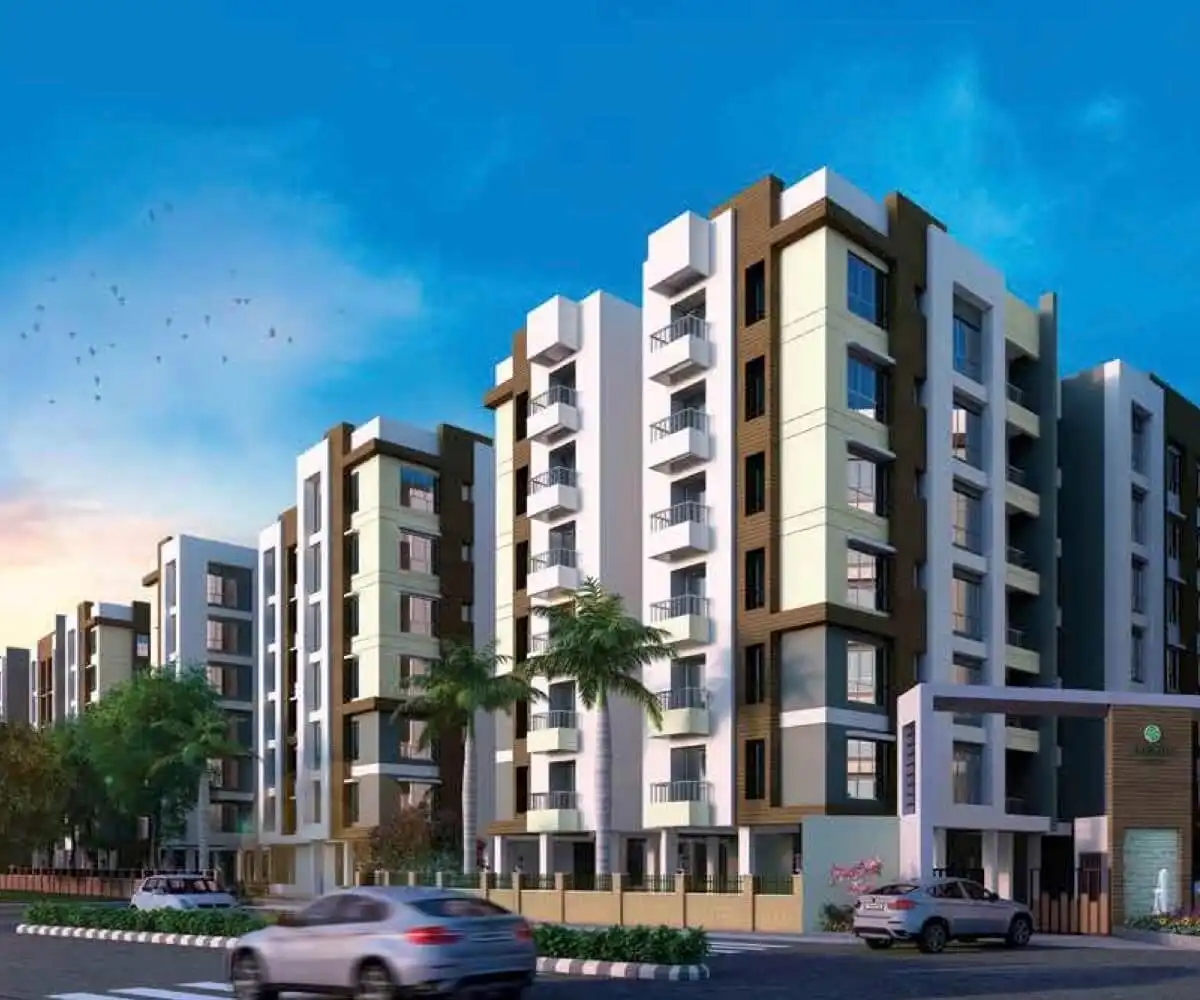 To know more, Download your Brochure

Freshia will provide you with an adda zone, a senior citizen area, and a yoga & meditation zone with decorated terraces, a landscape garden, and surrounding greenery. It was created especially for families that wish to live happily and get away from the craziness of the city.
At Freshia by Loharuka, you may finally live the life of your dreams on your own terms.
Amenities:
AC Community Hall.
AC Gym.
Kids Play Zone.
AC Indoor Games.
Roof Yoga // Meditation Zone.
Three-sided open apartment.
All modern facilities and amenities.
Location:
Freshia is located at Narayanpur, Gopalpur I, Kolkata.
2. Elita Garden Vista
Come home to Elita Garden Vista if you have a New York relocation fantasy but your first love is Kolkata. New York's opulence and Kolkata's modest charm are flawlessly merged in this development. Embrace the New York way of life in this project. We've hand-picked the choicest amenities and facilities that reflect the larger-than-life vibe of New York City.
In New Town, Kolkata, Sureka Merlin & JB Group have developed the residential complex known as Elita Garden Vista. The project provides 2 BHK and 3 BHK apartments.
Elita Garden Vista constructs a well and beautiful project in Kolkata. This is located in the well-connected neighborhood of New Town. The range of pricing for the meticulously planned. This project spreads over 25 acres. It has 726 total apartments, keeping in mind the modern lifestyle. There are 16 towers in all, each with a unique benefit, in this well-constructed region.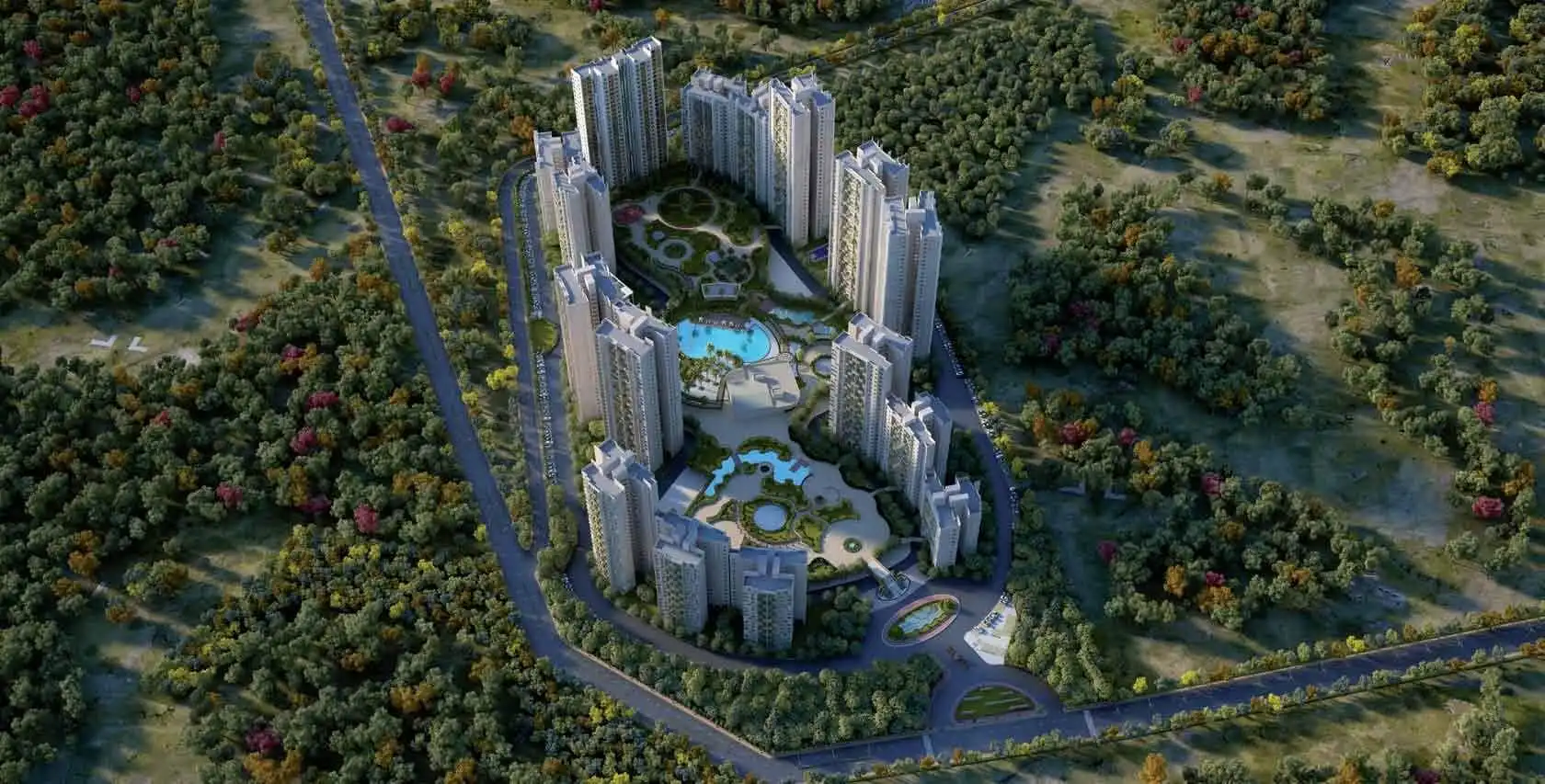 To know more, Download your Brochure

Also, it has been awarded a certificate of completion. You may relax knowing that the project has been issued an occupancy certificate. The renowned builders Sureka Merlin & JB Group have skillfully created this project. Also, it offers the greatest amenities and services, including a mini-theatre, outdoor tennis courts, indoor squash and badminton courts, a banquet hall, a central location, premium brand fixtures, individual climate control in each room, an aerobics area, a cafeteria/food court, etc.
Amenities:
87% Open landscaped area.
Outdoor multipurpose area.
Gymnasium + Yoga room.
Indoor games room.
Swimming pool.
BBQ corner.
Location:
Elita Garden Vista is located in Action Area III, New Town, Kolkata.
3. Sriram Grand City
In the district of Hooghly, Konnagar, the renowned Shriram Properties created Grand City. This project spans over 314 acres, and 24 storeys, and is surrounded by 2400 residential apartments. Grand City's starting price is 25 lakhs. The Shriram Grand City offers apartments with 1 BHK 2 BHK, and 3 BHK. And it comes with a range from 469 square feet to 1119 square feet. Grand City is still being built. You can get a better idea of what this project has to offer by looking through its pictures.
Shriram Grand City, which spans 314 acres of land, revitalizes the wonder of life and habitation by taking care of urban concerns. It gives you an environment-friendly project. Where both the young and the old can benefit from living in the city while also staying in touch with nature. The central greens are so captivating. That you can't just take your eyes off Grand City. You can also look through the brochure for Grand City for more information.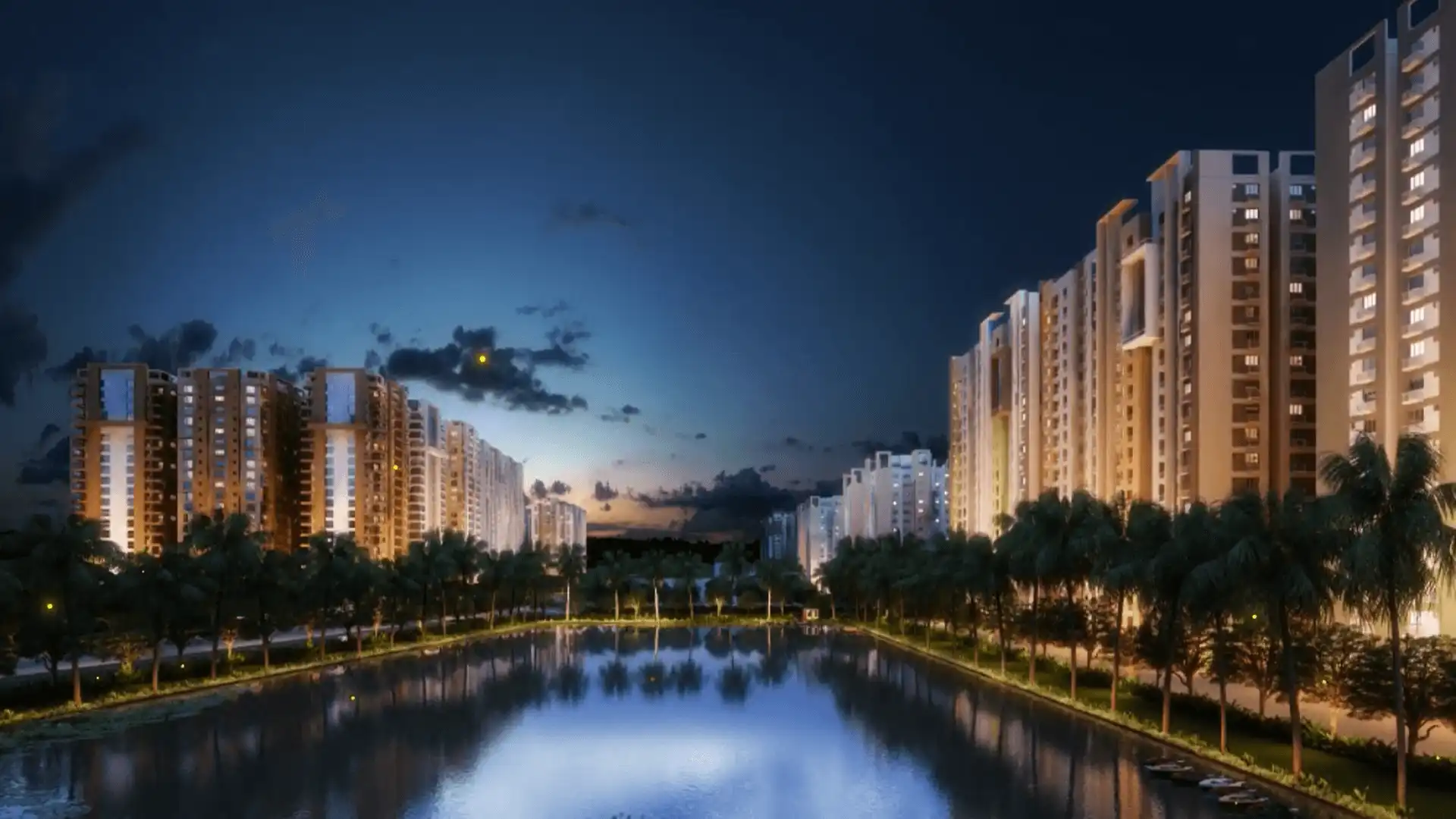 To know more, Download your Brochure

Also, it has indoor badminton courts, multipurpose courts, an aerobics room, a children's play area, a gymnasium, water storage, a banquet hall, flower gardens, a conference room, firefighting, etc. all available. Envisioned as Kolkata's sister city, that offers 33 million sq. ft. of residential and commercial projects in Kolkata along with entertainment avenues, healthcare, retail, and educational facilities.
Amenities:
Swimming Pool.
Children's Play Area.
Open Car Parking.
Closed Car Parking.
Jogging Track.
Skating Rink.
Multipurpose Room.
Banquet Hall.
Location:
Shriram Grand City is located at Konnagar, Hooghly.
4. Merlin Gangotri
The residential development project Merlin Gangotri by Merlin Groups is selling ready-to-move apartments in Hooghly, Konnagar, there are 2 BHK configurations available. The one-acre complex contains several contemporary facilities. The area plan specifies that units be 602.0 square feet in size which are scheduled for possession in September 2022, Merlin Gangotri. It consists of 192 apartments and 4 structures, 94/7K, Grand Trunk Rd, Arabinda Pally, Konnagar is the address of it. Also, it offers you 2 BHK apartments.
Experience a decadent lifestyle and count the blessings of riverside living at Merlin Gangotri where every day is a gift waiting for you to unwrap. Create your own idyllic existence in the airy, well-ventilated, and Vastu-compliant apartments at Konnagar. Also, the amalgamation of old-world charm along with modern-day conveniences carries the signature of being the connoisseur of fine living. By way of the road that runs through the center of this suburb, Konnagar connects well to other areas of the city. There are notable shopping centers, movie theatres, schools, and hospitals close by to this residential development.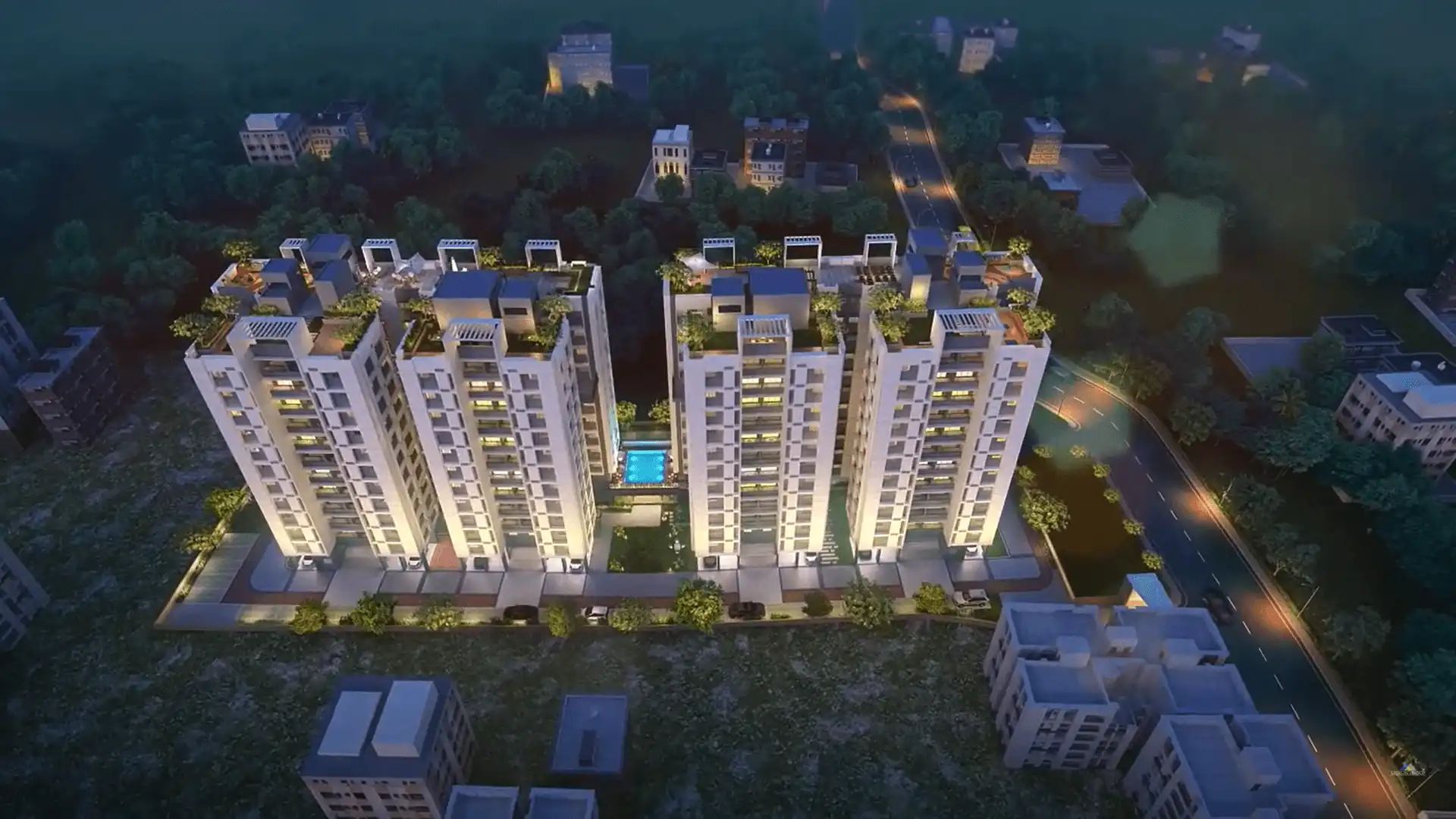 To know more, Download your Brochure

In Merlin Gangotri, homeowners have access to a variety of amenities, including a gym and power backup. Apart from the swimming pool, young families with kids will adore the Children's Play Area and Kids' Pool adjacent. Merlin Gangotri gives you the freedom to enjoy using the project's library, restaurants, and cafeterias, as well as its supplies. Although, fire sprinklers are given on each floor of every building. Also, there is a high-tech alarm system with 24/7 security. It is a gated neighborhood.
Amenities:
Central Lawn.
Badminton Court.
Indoor Toddler's play area.
AC Yoga & Meditation room.
AC Gymnasium.
AC Indoor games room.
Location:
Merlin Gangotri is located in Uttarpara, Konnagar, Hooghly.
5. Aarjavv Sonarkella
Aarjavv Sonarkella is situated on the Southern Bypass and cradled in the lap of greenery amidst, a natural lily pond, Sonarkella is easily the most sought-after and talked about project in Garia. Developed by Arrjavv, this residential complex has a host of amenities and facilities with a swimming pool, clubhouse, state-of-the-art gymnasium, children's play area, and landscaped garden jogging track. It has 6 exclusive towers with a range of 2 BHK and 3 BHK apartments.
There is never a dull moment – celebrate all festivals with fervor at the festival podium. Situated on the main road, yet away from the hustle and bustle of mundane daily chores. Sonarkella will spoil your other choices with its full range of flat sizes & vast open spaces, and lush green trees. Also, Sonarkella offers a good healthy life at a very compelling price.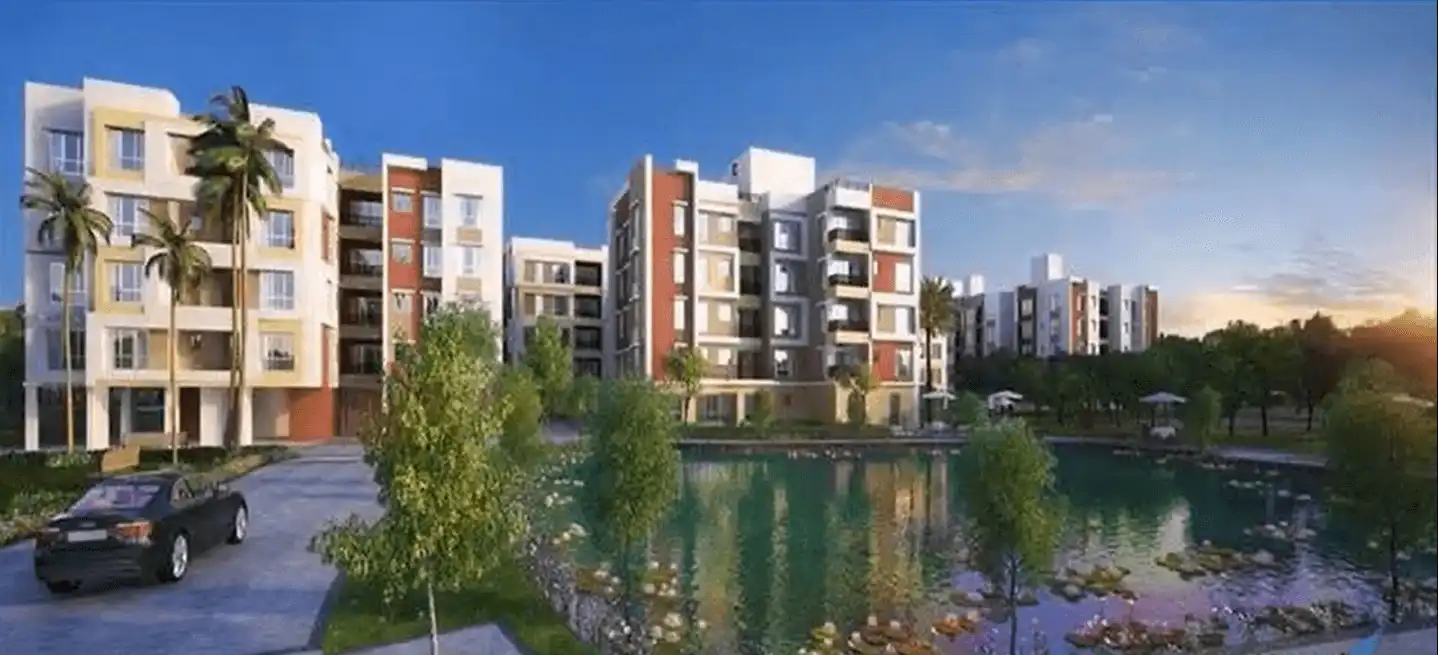 To know more, Download your Brochure

Aarjavv Sonarkella enriches you with a Grand double-height entrance lobby, an exclusive health club on the first floor, indoor games with basketball, a badminton court, billiard rooms, an air-conditioned community hall, landscaped garden, a plunge pool with Jacuzzi, and a large children's play area, multiple gyms, swimming pool, and an executive lounge are some of the interesting features of this project. Capture the positive flow of energy and live a harmonious life in these vastu-compliant apartments.
Aarjavv Sonarkella gives you an eco-friendly environment that suits your family more than anything else. Also, it gives you immense peace and purity, tastefully the positive flow of energy, and live a harmonious life. 
Amenities:
Firefighting system.
Multipurpose Room.
Landscape Garden.
60% Open space.
Swimming Pool.
Children's Play Area.
Community Hall.
Location:
Aarjavv Sonarkella is located in Khashmallick, Garia, Kolkata.
You can send us your requirements and a phone number if you're interested in purchasing a property in one of those projects, and a member of our dedicated team will get in touch with you. Our professional sales staff thoroughly examines all potential situations and offers guidance to buyers of real estate in selecting their ideal residence.
Furthermore, if you're interested in purchasing a property in this area, you can give us a call on our number. And a member of our dedicated team will connect with you.
Propvestors is the best real estate broker consultants' company in Kolkata. We have begun a new journey from 2020 in the "City of Joy" with a dream to become the most Trusted Global Brand in Real Estate in Kolkata & with the vision to provide quality homes for all. We promote bungalows, villas, and apartments around Kolkata, located In Rajarhat, New Town, Tollygaunge, Joka, Madhyamgram & EM Bypass, and so on. We are empowered to execute our dreams into reality through the execute your all queries and getting your apartment is very reasonable than your present alternative. Finding affordable flats, Apartment Bungalow is all over Kolkata for you. We know our customers' needs & are committed to providing the finest homes. Propvestors is already winning the heart & minds of thousands of customers through the properties, Flats, bungalows & apartments located all over Kolkata.