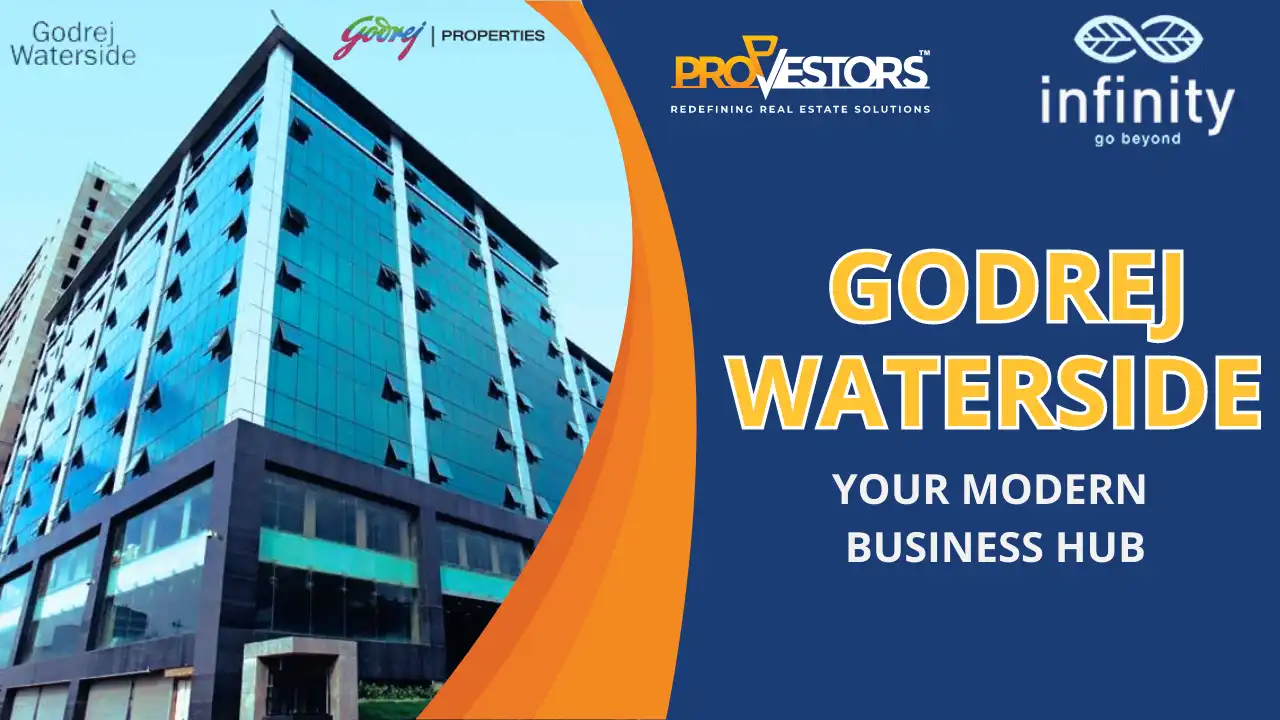 14 Aug, 2023
Godrej Waterside – Your Modern Business Hub
Revolutionizing Commercial Office Spaces in Salt Lake, Kolkata
In the bustling heart of Kolkata's vibrant Salt Lake Sector V, a new beacon of modernity and innovation has emerged – the Godrej Waterside. This cutting-edge commercial business center stands as a testament to the evolving landscape of work environments, offering a seamless blend of functionality, aesthetics, and convenience. With its strategic location, state-of-the-art facilities, and breathtaking lake views, Godrej Waterside has redefined the concept of commercial office spaces in the city.
Salt Lake Sector V has emerged as a thriving business district, attracting multinational corporations, startups, and entrepreneurs. Godrej Waterside takes center stage in this dynamic landscape, providing state-of-the-art modern office spaces that redefine work environments.
Godrej Waterside seamlessly integrates luxury and functionality, offering a range of office spaces that cater to diverse business needs. From compact yet efficient spaces to expansive layouts, each unit is designed to maximize productivity and comfort. One of the standout features of Godrej Waterside is its stunning lake view. Imagine starting your day with a cup of coffee, gazing at the tranquil waters of the lake – an experience that not only refreshes the mind but also fuels inspiration and creativity.
The building has a magnificent glass exterior that gives it a sleek contemporary appearance, as well as a designated area for planting. Tower I and Tower II are the two segments of the development. To achieve optimal space utilization, the post-tension slab technique was used to build both towers. Tower I, which has 10 floors and a total floor area of 58,000 square meters (600,000 square feet), will have office space exclusively. There are four office spaces totaling 1200 to 1600 square meters on each floor. All the floors of Tower I will have plenty of natural light and ventilation because it faces the major road.
Tower II, the second phase of the project, will include 17 floors and 108,000 square meters (1.2 million square feet) of upscale office space. The structure will be divided into three offices, each measuring between 1600 and 2300 square meters, on each floor.
The location offers excellent connectivity to major parts of the city, ensuring that businesses are well-connected to clients and partners. From high-speed internet connectivity to wellness areas, every amenity at Godrej Waterside has been curated to enhance the work experience. The architecture of Godrej Waterside seamlessly marries contemporary aesthetics with functionality. The design ensures that every inch of space is optimized for productivity and comfort.
Convenience is a cornerstone of the Godrej Waterside experience. The center offers ample parking facilities, eliminating the stress of finding a parking spot. Additionally, its strategic location in Salt Lake Sector V ensures easy accessibility to major transportation hubs. Imagine gazing out of your office window and being greeted by the serene expanse of a lake. Godrej Waterside offers this unique privilege, where the view itself becomes a source of inspiration.
Godrej Waterside redefines the concept of commercial office spaces, infusing luxury, functionality, and innovation into every corner. With its lake view, modern amenities, and IT park advantage, it's more than just a workplace; it's a hub of productivity, growth, and success. Embrace the future of work at Godrej Waterside – where business meets inspiration.
Are you looking for premium commercial office space, including retail spaces, shops, and offices, available for sale in Kolkata? With its strategic location, bustling business environment, and excellent infrastructure, Kolkata is a preferred destination for companies across various industries. We provide a seamless working environment for businesses, with new-age facilities including parking spaces and smooth connectivity to prominent landmarks in Kolkata, Please contact our Website link: https://www.propvestors.in/commercial-project/godrej-waterside-sector-v/   or   WhatsApp No – 9830515060