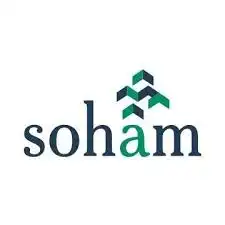 Soham Group
Soham Group is now a name renowned for its quality in the skyline of Ahmedabad. It is a group of professionals having over twenty years of experience in the real estate industry. After developing a class of commercial and residential spaces over the years, they are now in the expansion of our portfolio towards ultra-luxurious residences, hi-tech commercial spaces, concept colonies, and the tandem that a changing megacity demands.
With an expertise of over 30 years, Soham Group embarks on a vision to set a benchmark in the real estate sector with its quality living spaces for modern homebuyers. Sprawled across an expansive land area of 35,00,000 sq ft and bagged the WCRC Leaders Excellence Award. The group identifies trust and contentment as its core values. Motivated to surprise its customers and partners alike by going the extra mile. The stalwarts of the Soham Group are driven to surpass and reform the standards of luxury living through their untiring endeavors
Soham Group embarks with a vision to create new benchmarks in modern-day city living. Based on the core principles of delight and awe, the group has never failed to surprise customers and partners alike by walking that extra mile for them. Be it the conceptualization and designing of Diamond City (West), a 12 lakh sq. ft. gated community. Or the creation of Navita, where the challenge was to provide quality living spaces at affordable costs in madhyamgram. Or the restoration and recreation of Kolkata's first commercial heritage project, Diamond Heritage. On completion, the project received numerous accolades, including the Best Commercial Project by CREDAI Bengal Realty Awards 2017.  The group has never failed to bring a smile to the faces of over a few thousand customers.
There are some projects of the Soham Group – The Levelz, Navita, etc.