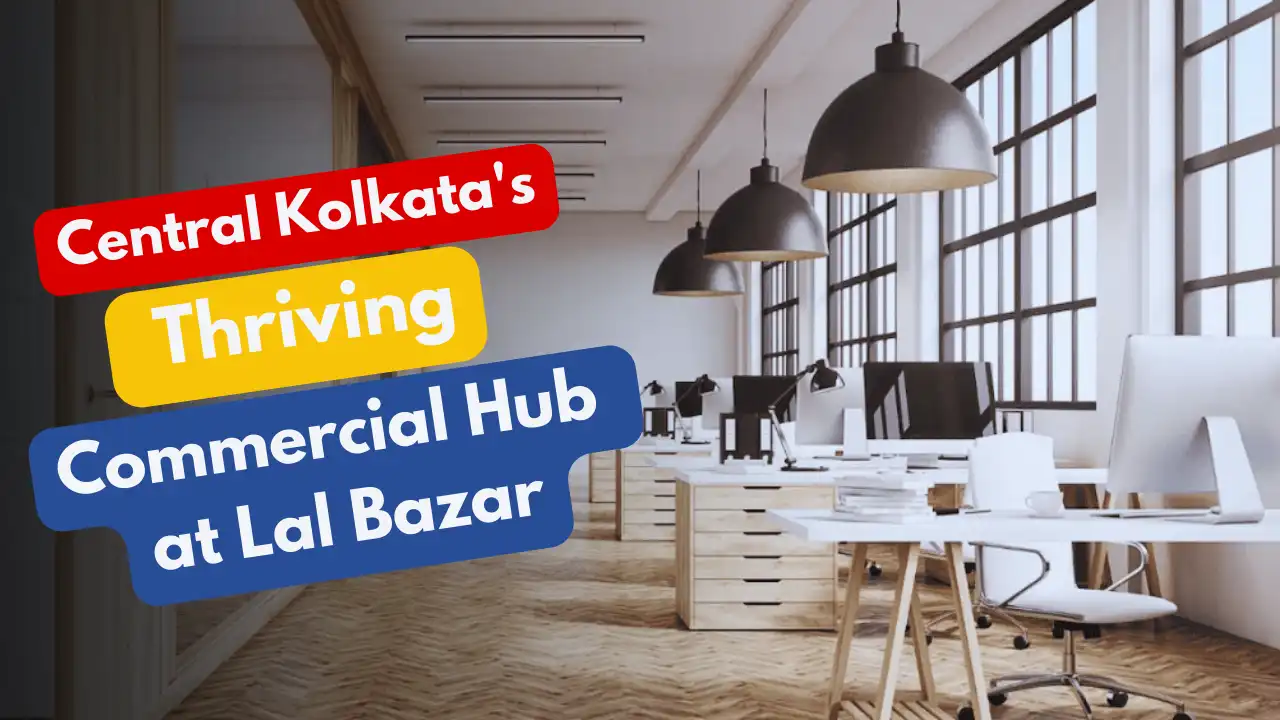 12 Sep, 2023
Central Kolkata's Thriving Commercial Hub : Lal Bazar
Welcome to the heart of Kolkata, where business meets innovation and opportunities thrive. Lal Bazar, situated in central Kolkata, is a dynamic commercial hub that offers an array of premium commercial office spaces. In this article, we'll delve into the essence of Lal Bazar Kolkata, highlighting its significance as a thriving business center, the advantages it provides to businesses, and why it stands out as a preferred choice for entrepreneurs and organizations.
Lal Bazar Kolkata: A Booming Commercial Hub
The Epitome of Convenience and Connectivity
Lal Bazar Kolkata stands tall as a beacon of convenience and connectivity. Nestled in the heart of central Kolkata, its strategic location ensures seamless accessibility from various parts of the city. The well-connected transport network and proximity to major landmarks make it an ideal destination for businesses seeking a central location.
Prime Commercial Office Spaces
Lal Bazar Kolkata offers a diverse range of prime commercial office spaces, catering to the varying needs of businesses. From compact offices for startups to spacious layouts for established corporations, the hub provides a plethora of options. These thoughtfully designed spaces combine aesthetics with functionality, creating an inspiring work environment. Some of the Commercial Office Spaces near Lal Bazar – Srijan Logos, Srijan Intellia Business Park, The Statesman House, PS Dominion, Soham Prime Spaces, and MG Square, etc.
Vibrant Business Ecosystem
The hub's vibrant business ecosystem is a melting pot of industries, fostering collaboration and innovation. Entrepreneurs, professionals, and visionaries converge at Lal Bazar, creating a synergy that drives growth and progress. The diverse community paves the way for networking, partnerships, and knowledge exchange.
Amenities for Success
the location Kolkata is more than just office spaces; it's a holistic experience. The hub is equipped with modern amenities that cater to the needs of businesses and their employees. State-of-the-art conference facilities, recreational areas, and ergonomic designs ensure a productive and enjoyable work atmosphere.
Why Choose Lal Bazar Kolkata for commercial workspace?
Unparalleled Location Advantage
The central location of Lal Bazar Kolkata offers unparalleled advantages. It provides easy access to major markets, financial institutions, and government offices. This proximity simplifies logistics, enhances visibility, and opens doors to a vast customer base.
Flexibility and Scalability
One size doesn't fit all in the business world, and Lal Bazar understands that. The hub offers flexible lease options and scalable office spaces, allowing businesses to expand seamlessly as they grow. This adaptability eliminates the constraints of traditional office setups.
Inspiring Work Environment
The area Kolkata is more than bricks and mortar; it's an environment that fosters creativity and innovation. The thoughtfully designed spaces, coupled with an atmosphere of collaboration, inspire individuals and teams to reach their full potential.
Networking Opportunities
The diverse community at Lal Bazar presents abundant networking opportunities. Bump into like-minded professionals, attend industry events, or strike up conversations during coffee breaks. These interactions often lead to valuable connections and partnerships.
Supportive Services
Running a business involves more than just having a physical space. Lal Bazar Kolkata offers a range of supportive services, from administrative assistance to technical support, easing the operational burden on businesses and allowing them to focus on their core objectives.
In the heart of Kolkata, the location stands as a testament to the city's entrepreneurial spirit and business acumen. Offering a diverse range of commercial office spaces, a vibrant ecosystem, and a strategic location, Lal Bazar Kolkata truly encapsulates the essence of a thriving commercial hub. Whether you're a startup seeking a foothold or an established business looking for expansion, Lal Bazar provides the ideal platform for success.
So, why are you waiting for? Embark on a journey of growth and possibilities at Lal Bazar Kolkata, where your business aspirations take center stage.
For more information, Call now : 9830515060
If you want to Download your Brochure?