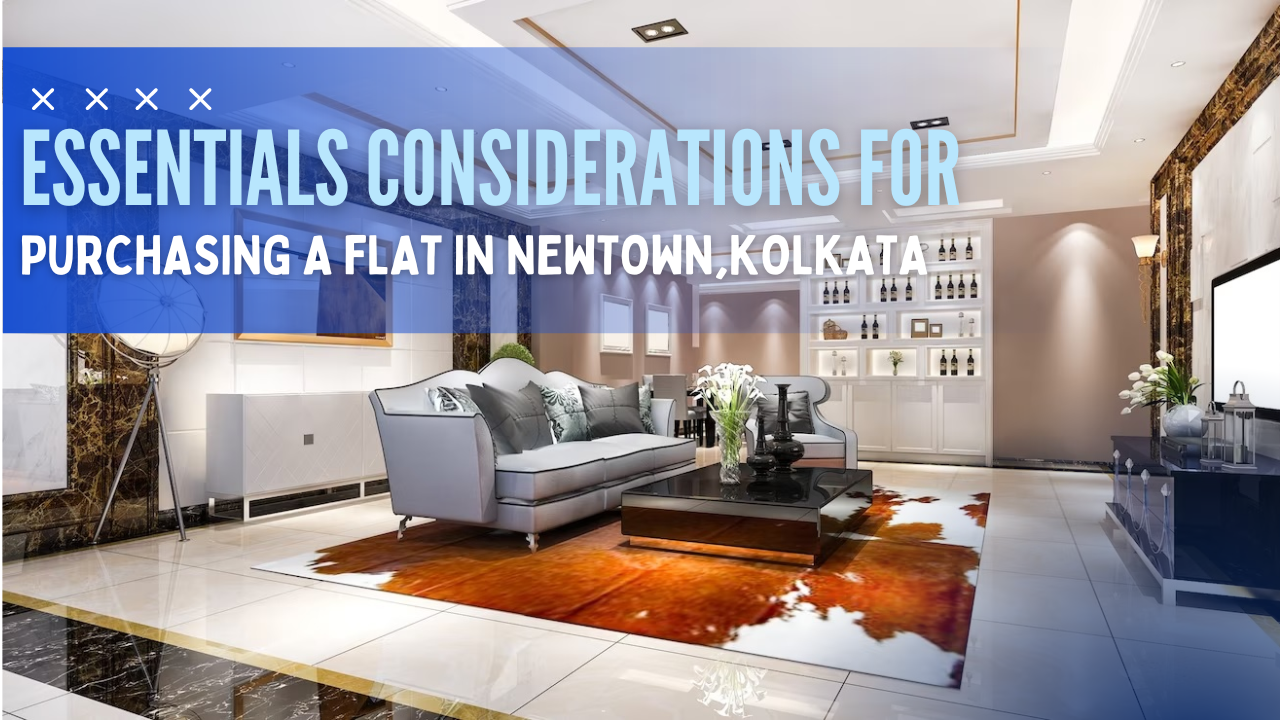 07 Jul, 2023
Essentials Considerations for Purchasing a Flat in Newtown
Newtown, Kolkata has emerged as a popular destination for real estate investment, offering a promising
residential landscape. If you are considering buying a flat in this thriving area, it is important to be well-informed about the key factors that can influence your decision. In this article, we will discuss the essential points you should know before buying a flat in Newtown, Kolkata.
1. Location and Connectivity: Newtown's strategic location near the Netaji Subhas Chandra Bose
International airports and major IT hubs have made it a sought-a]er residential area. Before finalizing
a flat, evaluate its proximity to essential amenities like schools, hospitals, shopping centers, and
public transportation. Consider the connectivity to major roads and highways for convenient
commuting within the city and beyond.
2. Infrastructure and Development: Assess the overall infrastructure and development plans for the
area. Newtown has witnessed significant infrastructural growth, including the establishment of
commercial complexes, educational institutions, and recreational facilities. Check for upcoming
projects, such as metro extensions or road expansions, which can potentially enhance the value and
livability of the locality.
3. Reputation and Credibility of Developers: Research the reputation and track record of the
developers in Newtown. Choose renowned and credible builders known for delivering quality
projects to time. Read customer reviews, visit their completed projects, and assess their adherence
to legal and environmental regulations. This due diligence will help ensure a smooth and reliable
home-buying experience.
4. Budget and Affordability: Establish a clear budget and determine your affordability before exploring
flats in Newtown. Consider not just the cost of the property but also associated expenses like stamp
duty, registration fees, maintenance charges, and taxes. Additionally, inquire about any hidden costs
or ongoing maintenance fees to accurately evaluate the overall financial commitment.
5. Legal and Documentation: Verify the legal aspects and documentation related to the flat. Ensure
that the project has obtained the necessary approvals and clearances from the local authorities.
Scrutinize the title deed, land records, and building plan approvals to avoid any legal complications
in the future. Seek professional assistance from legal experts to guide you through the
documentation process.
6. Amenities and Facilities: Evaluate the amenities and facilities offered within the residential complex.
Look for features like security systems, parking spaces, power backup, water supply, and
recreational spaces. Assess the maintenance and upkeep of common areas to gauge the quality of
living provided by the developer.
7. Resale and Rental potential: Consider the resale and rental potential of the flat. Analyze the market
trends and demand for properties in Newtown. Factors such as proximity to commercial centers,
educational institutions, and employment hubs can significantly impact the resale value and rental
income potential of the flat.
There have some premium topnotch apartments in Newtown, Kolkata, Such as The V, Vedic Wellness Villas, Newtown Villas, PS Vaanya, Vinayan Atlantis, Mani Casa, Orbit Urban Park, Ambuja Urvisha, Merlin Lakespace, One Prime, One Rajarhat, Rishi Pranaya, Cutiocity, The soul, Elita Garden Vista, Amistad, Merlin the Fourth, Merlin 5th Avenue, One 10, Purti Veda.
So if you are willing to buy any property in this area, Please feel free to call our Property Expert at +91 90734 43322
Purchasing a flat in Newtown, Kolkata presents an exciting opportunity for homebuyers. By considering
crucial factors like location, infrastructure, developer credibility, budget, legal documentation, amenities,
and potential returns, you can make an informed decision that aligns with your needs and goals. Conduct
thorough research, engage in site visits, and seek expert advice to ensure a successful and rewarding real
estate investment in Newtown.