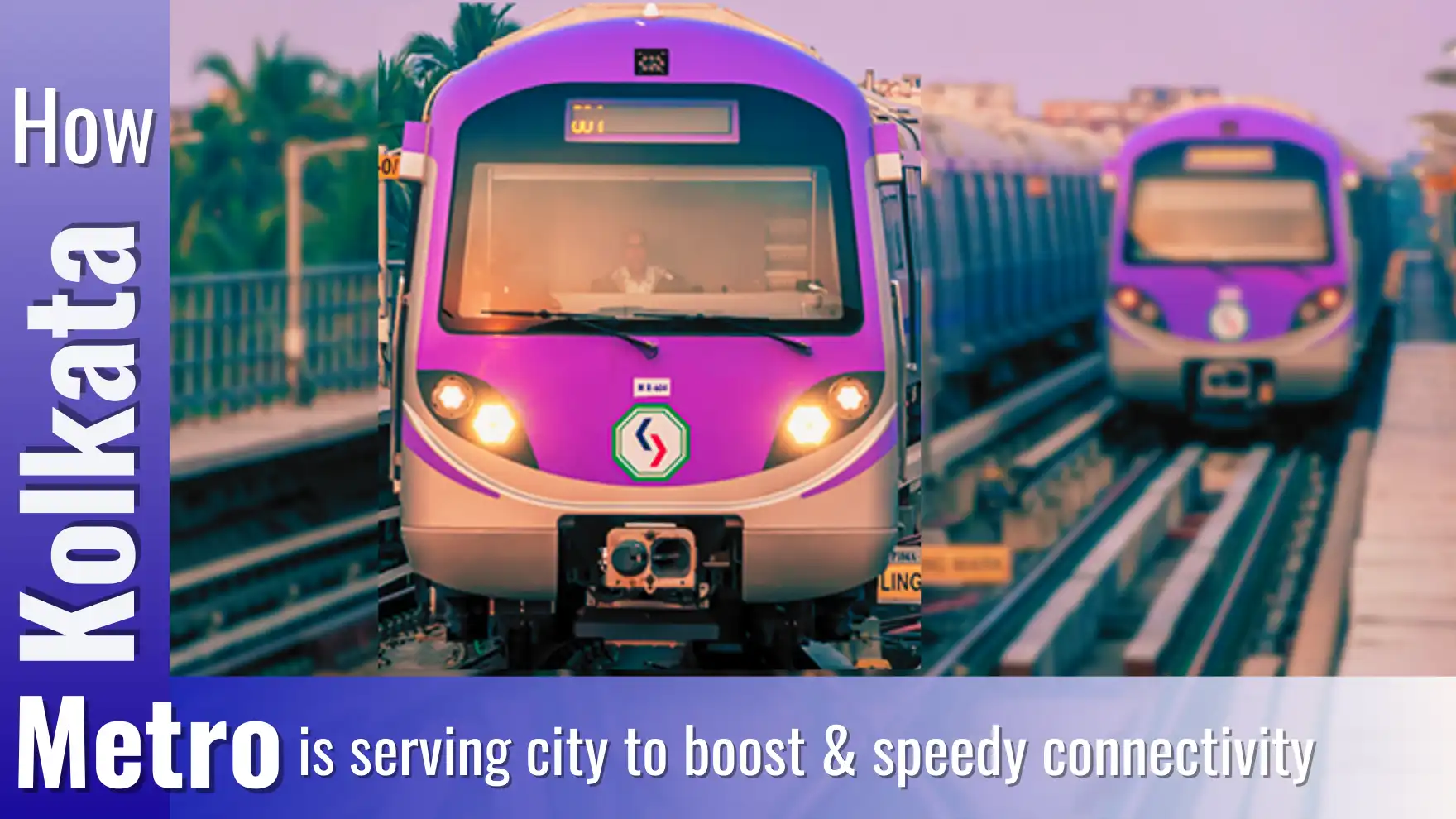 20 Jun, 2023
How Kolkata Metro is serving city to boost & speedy connectivity
Kolkata, also known as the "City of Joy," is a bustling metropolis in eastern India. With a rich cultural heritage and a rapidly growing population, the city faces the challenge of urban expansion. One of the key solutions to this problem is the Kolkata Metro, a mass rapid transit system that has been instrumental in improving connectivity and facilitating urban expansion. In this article, we will explore how the Kolkata Metro is playing a crucial role in the city's development and addressing the challenges of urbanization.
The Kolkata Metro
The Kolkata Metro is a fast transport system that runs across Kolkata, West Bengal, India. The metro provides speedy transportation, air-conditioned riding comfort—which is crucial during the hot Indian summer—as well as pollution-free, cleaner transportation.
The Kolkata Metro is revolutionizing the city's transportation system, connecting various parts of the city, and making it easier for people to travel. Here are some ways in which the Kolkata Metro is facilitating urban expansion through improved connectivity:
Enhancing Accessibility to Peripheral Areas
The Kolkata Metro has extended its reach to the peripheral areas of the city, which were previously underserved by public transportation. This expansion has opened new opportunities for urban development in these areas, as it provides better accessibility for residents and businesses. People can now easily commute to and from these areas, leading to their integration with the city's core and fostering urban expansion.
Boosting Economic Growth
Improved connectivity through the Kolkata Metro has a direct impact on the city's economy. It facilitates the movement of people, goods, and services, enhancing business opportunities and attracting investments. As a result, economic activities thrive, leading to job creation and overall economic growth. This economic boost further drives urban expansion as more people migrate to the city in search of better prospects.
Real Estate Value Appreciation
Residents living near metro stations enjoy the advantage of increased property values. The convenience and accessibility provided by the metro lines make these areas highly desirable for both homeowners and investors. The demand for properties near metro stations rises, leading to an appreciation in real estate values. This can benefit homeowners who wish to sell their properties or leverage their increased property value for financial purposes. Also, reaching BBD Bag, Esplanade, Park Street, and Salt Lake Sector 5 will be simpler for people living in Howrah and surrounding places, therefore investing in a property there makes perfect sense.
Promoting Sustainable Development
The Kolkata Metro is also playing a vital role in promoting sustainable development. By encouraging the use of public transportation, it helps reduce carbon emissions and air pollution. Additionally, the Metro's energy-efficient operations contribute to conserving resources. These sustainability measures align with the city's vision for urban expansion, ensuring that growth occurs in an environmentally responsible manner.
Connecting Residential and Commercial Hubs
The Kolkata Metro acts as a vital link between residential and commercial hubs within the city. It enables people to live in one area and commute to work or study in another without facing the challenges of long-distance travel. This seamless connectivity between residential and commercial areas fosters balanced urban expansion by distributing population density and economic activities across different parts of the city.
Improving Livability
The improved connectivity provided by the Kolkata Metro has a positive impact on the livability of the city. Residents can save time and effort in commuting, which can be utilized for personal and recreational activities. Moreover, the Metro's comfortable and air-conditioned trains offer a pleasant travel experience, enhancing the overall quality of life for the city's residents.
One of the most significant advancements in urban transportation is the introduction of new metro lines. In this article, we will explore the various advantages that new metro lines bring to the residents, highlighting the positive impact they have on urban life.
Benefits of New Metro Lines for Residents
In the upcoming three to four years, Kolkata Metro has ambitious growth ambitions to build up a 100-kilometer network. By 2025, it is anticipated that close to 18 lakh people would commute every day using the Metro. Some of the new metro lines of Kolkata are – Joka -Esplanade Metro line, Dum Dum Airport to New Garia line, and Esplanade to Howrah Maidan line which is the first underwater metro in Kolkata.
Kolkata Metro authorities stated their plans for different lines recently.
Increased Mobility for All
New metro lines contribute to inclusive transportation, designed to accommodate individuals with different mobility needs. These lines provide barrier-free access, with elevators, escalators, and ramps available at stations, ensuring that residents with disabilities, senior citizens, and parents with strollers can easily navigate the metro system. This promotes a more inclusive and equitable urban environment.
Enhanced Connectivity within the City
The introduction of new metro lines significantly improves accessibility and connectivity within a city. Residents can enjoy a seamless and convenient commute, as the metro lines connect various neighborhoods, commercial centers, and significant landmarks.
If you want to buy any flat, apartment or bungalow we are happy to find your new property for your family. Please contact us soon.