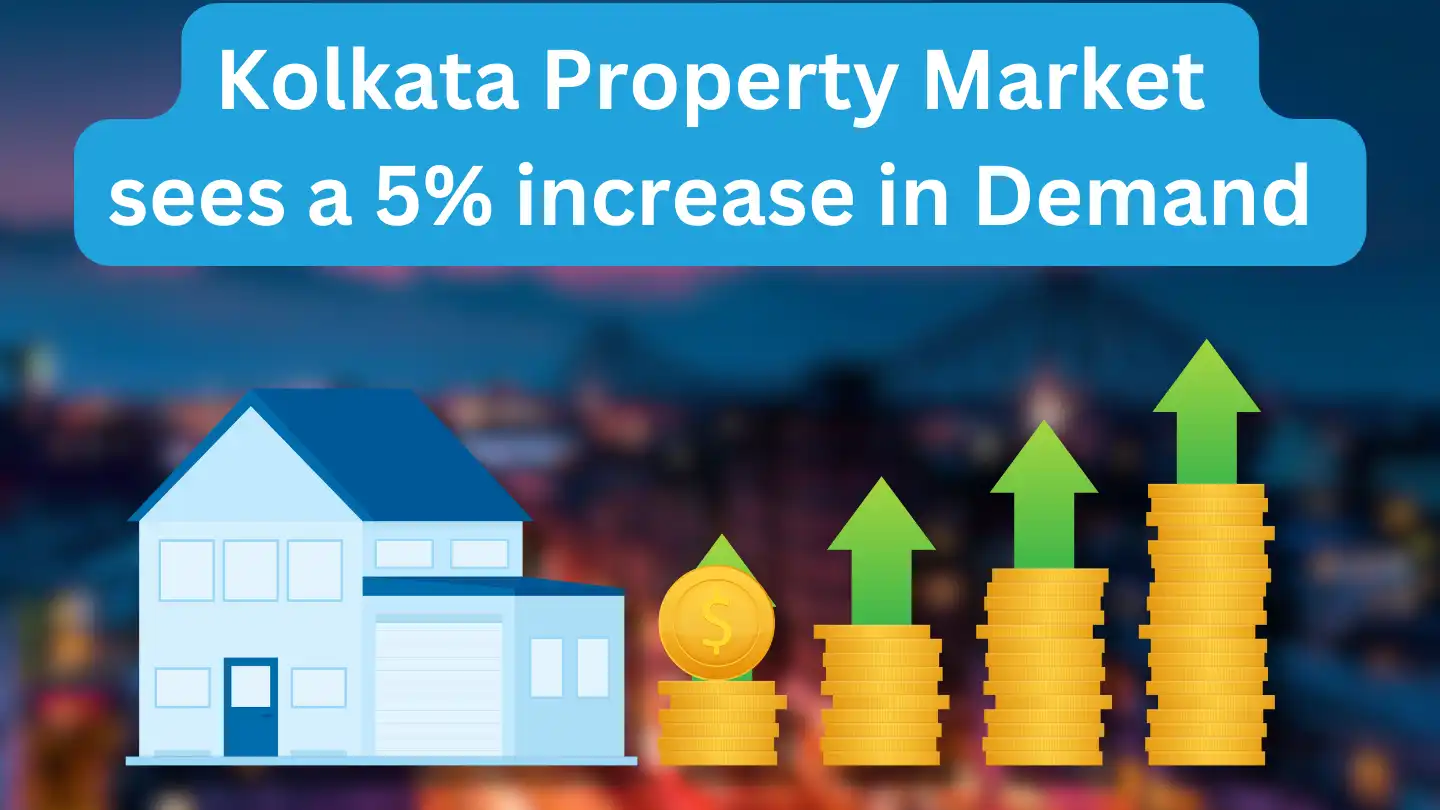 09 Sep, 2023
Kolkata Property Market Insights: A Comprehensive Guide
Are you considering investing in the Kolkata property market? Wondering about the latest trends and insights? Look no further. In this comprehensive guide, we will provide you with an in-depth analysis of the Kolkata Property Market Insights, covering everything you need to know before making any real estate decisions.
Kolkata Property Market Overview:
The Kolkata property market is a dynamic and ever-evolving sector, offering both challenges and opportunities for investors and homeowners alike. To navigate this market successfully, it's essential to have access to the latest insights and trends. In this article, we go through the Kolkata Property Market Insights, shedding light on key aspects that can influence your property-related decisions.
Kolkata, also known as the "City of Joy," boasts a thriving real estate scene. The city's rich cultural heritage, along with its growing economy, makes it an attractive destination for property investment. Whether you are interested in residential or commercial properties, Kolkata offers a wide range of options to suit your needs.
In the realm of real estate, the demand trajectory continues its skyward ascent, while the realm of supply remains ensconced in a state of restraint. Rajarhat-Newtown, Central Kolkata, and South-east Kolkata stand resolute as the most coveted domains in Kolkata's housing panorama.
In the second quarter of the year 2023, the housing sector in Kolkata bore witness to a substantial 4.7% quarter-on-quarter surge in demand, as indicated by search queries. Conversely, the supply facet, marked by active listings, saw a somber quarter-on-quarter decline of 5.9%. This decline may be attributed to the challenge of new properties entering the market not compensating for the absorption of pre-existing ones. The prevailing property rates exhibited a modicum of stability, with a marginal quarter-on-quarter uptick of 0.6%.
One of the prominent trends in the Kolkata property market is the rising demand for residential properties. As the city continues to grow, more people are looking for comfortable and modern living spaces. This demand has led to the development of numerous housing projects catering to various budget ranges.
After a slump from the third quarter of 2021 to the fourth quarter of 2021, Kolkata's average property rates have exhibited an unbroken ascent since the advent of 2022, currently resting at an elevated status, 8% higher than previous benchmarks. This average rate has maintained a steadfast upward trajectory at a compounded quarterly growth rate of 1%, a rate eclipsed by the prevailing inflation rate in the Indian economy. Notably, amongst all the prominent metropolitan regions, Kolkata boasts the lowest average property rate.
It merits recognition that although Kolkata's residential real estate market endured an extended phase of underperformance, a significant turnaround materialized in the first quarter of 2023. The sustained surge in demand during the second quarter of 2023 serves as a testament to the resurgence of buyer enthusiasm and renewed confidence in the market's prospects.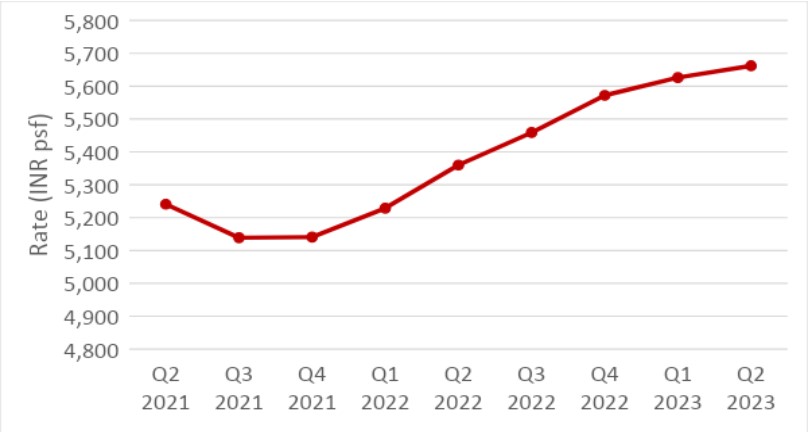 Source: Magicbricks
Rajarhat-Newtown maintains its position of eminence as the preeminent residential real estate destination. Rajarhat–Newtown, Central Kolkata, Joka, EM Bypass, and Southern Bypass, emerge as the most coveted precincts in Kolkata's real estate panorama. These micro-markets, aligning with the fervent demand, concurrently spearhead the supply front. The dynamics of supply and demand within these regions consistently exhibit robustness, underscoring their appeal to prospective buyers. The predominant configuration in Kolkata's real estate landscape consists of 2 BHK properties, commanding a demand share of 47% and a supply share of 48%. Following closely, 3 BHK properties occupy a noteworthy position, with a 42% demand share and a 39% supply share.
Kolkata's commercial real estate sector is also on the upswing. With the emergence of IT hubs and business parks, there is a growing demand for office spaces. Investors looking for long-term gains should consider the potential of this sector.